Social Media Marketing
You can embark on a successful journey with our Social Media services. Using social media to market your business and upload hilarious memes or contacting your friends are two different things. You may have a large following. But is it relevant to your business? You need to know how to use algorithms to favor your business and work not against it.
Our approach
We take a very specialized approach towards advertising and social media marketing. It is rather one of our crucial services offered. We collaborate with our clients to provide top-quality results using different social platforms thus promoting your brand and business. We help companies to have a greater voice over social media networks.
We provide consultation ranging from managing completely your social media ventures to content promotion to paid advertising. The fact is that social media is not just limited to status updates. Rather, it is termed to be a part of a much wider sales and marketing funnel.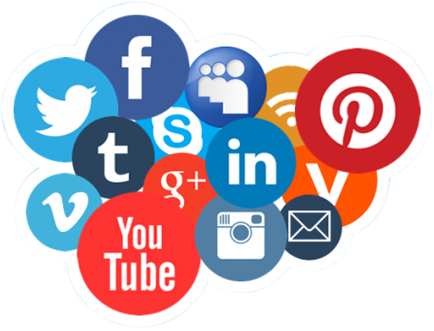 Why choose social media marketing?
With a proper social media presence, you can develop better brand awareness as well as a strong community. We can help your business by developing effective marketing strategies. This way, your business will not be viewed as an 'apprentice job' or 'waste of time'. Besides providing updates to your following, it also has plenty of potential.
These days, SEO seems to be interlinked with social channels.
When search engine rankings are concerned, social media accounts are the place for your business to be active. This aspect cannot be denied or neglected. So why not consider using social networks to promote and develop your brand? With plenty of platforms available to be taken, you can indulge in a lot of things.
You may not have a social media presence. But that does not necessarily mean your customers have stopped trying to discuss about you or engage with you. Another trick concerning customer service is to listen to what your customers have to say and take appropriate action.
Our experts can help guide you to identify the social media network that will work effectively for your business and brand. We will evaluate each platform's demographics, strengths and weaknesses. We will also define your audience by identifying them. We also help develop strategies and social content to cater to their specific needs, including your business objectives and goals.
Social Marketing to develop Business Case Studies
We have helped several businesses with their social media advertising and marketing campaigns.
M&J Seafood: Using diverse content themes and Twitter, we helped enhance web traffic and communication with M&J customers.
Mezzanine International: We held pre-exhibition social prep, thereby increasing reach while developing awareness and conversations.
Sterlingbuild: We worked with influencers to develop better engagement through outreach along with high-quality links.
Spicers: We used integrated social and search strategies, awareness and paid campaigns, competitions to increase sales in Christmas.
BestInvest: We audited existing channels, as well as provided improvement suggestions including content ideas and rich media.
Why work with us?
We offer jargon-free reporting. This means you will have a better view and understanding of our efforts.
We collaborate with you to come up with a 'Creative Workbook'. This live document can help host your work and strategies, allowing you to know our achievements.
Under several diverse networks, we are considered to be a strongly recommended and award-winning agency.
We carry out in-depth research to identify audiences for your business and brand.
Our certified team knows Twitter Flight School and Facebook Blueprint.
We incorporate our accumulated in-depth experiences in our work.
Attribution modeling: Working along with the Data team, we create measurement plans, objectives and goals to track social media management success achieved.